Sector 9 Slide Gloves
Item # 164633
Ok I just got these gloves today while they are really nice and comfortable the material isn't exactly the best, I say this because they tore the very first day that I was using them. I understand that I should lift my fingers up but while sliding on a steep grade facing towards the hill no matter what I do my fingers are going to hit cement. I just think its a little ridiculous I tore through the Kevlar fingers on the first day, for its intended use it should be stronger but that's just my opinion.

(Posted on 3/28/14)

I wanted the rasta color gloves and they sent me green ones...what kind of piece of crap is this. If i wanted green ones I would of purchased green ones.

(Posted on 3/28/14)

for the person who tore through these gloves in less than an hour.
does not know how to ride let alone ride and has no biz being on the street

(Posted on 3/28/14)

These gloves are great and all... But the fingers rip so if you don't want your fingers to rip then buy different ones. And I understand to lift your fingers up,so if you don't know how, then get different ones.

(Posted on 3/28/14)

not so good... :( my Zumies carries triple 8's and they have the center puck and a thumb puck also a 4fingered puck...all removable. look those up.

(Posted on 6/8/13)

These are great gloves. finger/thumb pucks are only to "training wheels" till you learn to keep your fingers up. You shouldn't have them down because a dip in the pavement or a pothole will give you a broken finger.

(Posted on 6/8/13)

sweet gloves

(Posted on 6/8/13)

Every one who is hating on this glove needs to learn how to lift there fingers. that's why its ripping.

(Posted on 6/8/13)

Not many materials are durable when being plowed into street surface (pucks being the exception). If you know you drag your fingers then yes, get gloves with finger pucks. I've used these gloves for 9 months now though; at this point they are being held together by duct tape. They lasted longer than expected, and I'm happy with them for what I paid. The stock pucks die fast though.

(Posted on 6/8/13)

yea dont be hating if you are a true long boarder you would know you need to lift up your fingers when you slide

(Posted on 6/8/13)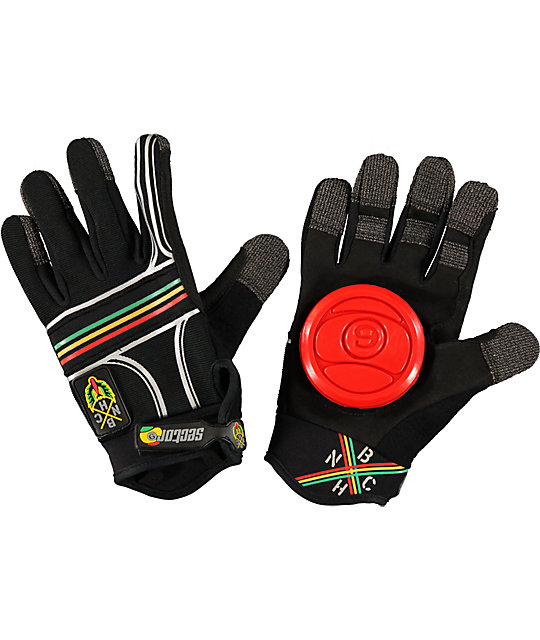 Description
Sector Nine BHNC slide gloves are for some intense downhill riding.
More Details

Comfort knuckle panel and cuff.
Anti-vibration foam under puck.
Durable Kevlar finger tips and thumb ends.
Terry cloth sweat pad on thumb.
Polyester, nylon, PU, spandex, neoprene, Kevlar cotton, rubber, foam, and PVC.
Item comes in assorted colors, we will ship what's available.
Imported.