Tensor Response Aluminum Black Lo 5.0 Skateboard Truck
Item # 165229
If you like tight trucks these are not for you but if you like them loose the best ever they can pull a perfect clean turn. AMAZING!!!

(Posted on 6/6/13)

dont listen to anybody on here if you want them tight, tighten them. if you want them loose, loosen them!

thats all there is too it

ps. super duper light and great grinding ability mine lasted 2 years.

(Posted on 6/6/13)

awesome super lite and cheap get theese!!!!!!!!

(Posted on 6/6/13)

SICK! i have these, they are alot better then my old ventures

(Posted on 6/6/13)

ugh doont buy these if u need tighter trucks... beast if u wanna turn a whole lot. but for me idk in the bottom middle.

(Posted on 6/6/13)

i hate these things u can never land a trick cuz there so loose! there still loose as heck even if u tighten them all the way! boooooo

(Posted on 6/6/13)

crazzy light but loose as hell if u skate tight dont buy these but if u skate loose best trucks EVERYYY!!.....

(Posted on 6/6/13)

great trucks

(Posted on 6/6/13)

AMAZING!!

(Posted on 6/6/13)

The bushing of the amazing tensor need to be improved

(Posted on 6/6/13)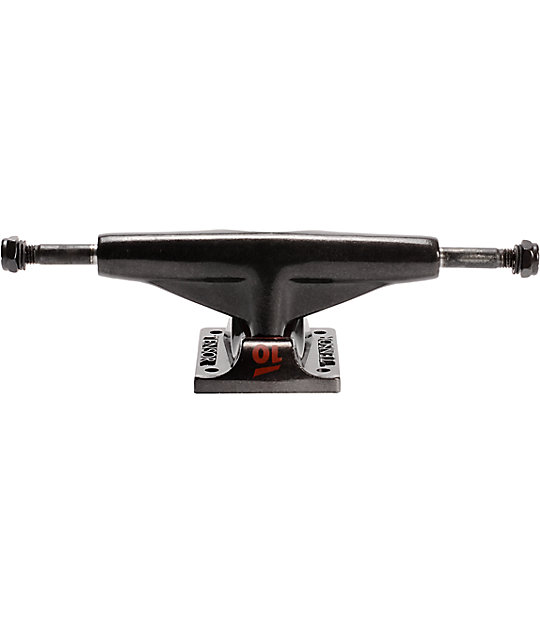 Description
Snag the Tensor Response Aluminum black lo 5.0" skateboard truck and experience the superior sliding and reduced weight of these premium trucks.

Trucks sold individually, add QTY 2 for full set.
More Details

Tensor Response aluminum black lo skateboard truck.
Size 5.0" black hanger.
Low ride height.
Fast turning and raw grinding.
Custom Tensor 10 logo graphic on black baseplate.
Lightweight aluminum construction.
11% lighter than industry standard.
Custom Tensor engraving on baseplate.
Best suited for boards size 7.0" - 7.5".
Trucks sold individually.
Order quantity of 2 for a set.
Imported.