Almost Daewon Fluorescent 7.75" Impact Support Skateboard Deck
Item # 181209
nice board

(Posted on 4/6/14)

easy chip alright pop

(Posted on 3/28/14)

Omfg amazing board great pop mellow concave verry strong...... Geeeetttt iiiiiiiiittttttttt ¡¡¡!!!!!!!!!!!!!!!!!!!!!!!!!

(Posted on 3/28/14)

This is the worst deck I have ever had! I got all of 3 uses out of it for maybe 30 minutes each. It should obviously be more durable as something made for that exact purpose. On the 3 rides I did not ride it very hard, I did not even get the CHANCE to jump stairs or ride hand-rails.

(Posted on 3/28/14)

awesome skateboard

(Posted on 3/28/14)

amazing it got er done!

(Posted on 3/28/14)

Best board I've owned yet. I would highly recommend this. In my opinion it didn't wear down as fast as my other boards. Absolutely no pressure cracks even after hard skating for 5 months. Excellent pop that didn't go away. Doesn't really chip. It did start to crack on the bottom few layers on the nose, but that was after about six months of skating almost 2 hours every day. All around still the best board I've skated yet. Now I don't skate anything but almost boards unless it's given to me

(Posted on 3/28/14)

I can't wait to get this deck almost is the best.

(Posted on 3/16/14)

Favorite deck ever. Amazing pop, looks sick, and is just super fun to skate. Definitely gettin it again.

(Posted on 3/16/14)

Best board ever!

(Posted on 3/14/14)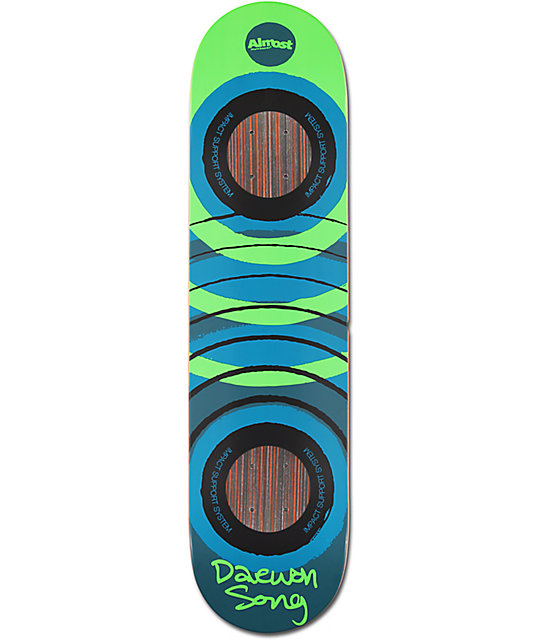 Description
The Daewon Song Fluorescent 7.75" skateboard deck from Almost, built with resin-7 construction and Impact Support by Almost.
More Details

7.75" wide skateboard deck.
7-ply maple and carbon fiber discs.
Resin-7 construction.
Almost Impact Support.
Note: Grip tape not applied to board.
Imported.
Cannot ship to Mexico.
Note: Colors and graphics may vary slightly from image.