Bones REDS Skateboard Bearings
Item # 072579
bomb down sick hills with these dope bearings


(Posted on 3/28/14)

dope bearings

(Posted on 3/28/14)

There good but not as much speed and durribiity as I would like I would just spend $10 extra and get super reds I just did much better

(Posted on 3/28/14)

Amazing bearings. The only kind i buy. Very easy to clean so they last a long time too

(Posted on 3/28/14)

Amazing bearings

(Posted on 3/28/14)

Great bearings. I switched them out so I could go a bit faster, but these are great for beginners at switching bearings.

(Posted on 3/28/14)

amazing


(Posted on 3/28/14)

They are really good and run well. They last a long time if you take care of it well

(Posted on 3/28/14)

These bearings are the best ones for the price you're paying. I've had mine for almost 3 years and only 2 of them broke (which is really good for 20$) they ride smooth if you clean them at least monthly with rubbing alcohol and some bearing lube. These are the best for the price If you want the best get bones Swiss.

(Posted on 3/28/14)

great bearings for the price

(Posted on 3/28/14)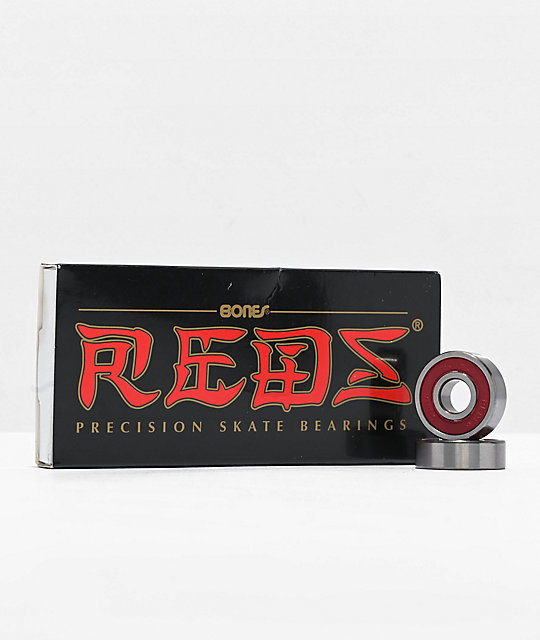 Description
The Bones Reds are essential when you're looking for quality bearings that offer max speed and durability. These bad boys have been tested and approved by Bones super pro Sean Malto and the newest addition to the Bones team, Ryan Sheckler!
More Details

Bones Reds Bearings.
Pre-Lubricated with Bones Speed Cream.
Removable high speed nylon ball cage.
Non-contact, removable rubber shield.
Bones skate rated design and quality.
Quantity of 8 bearings.
Imported.