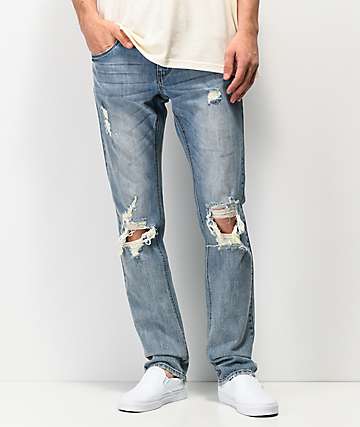 Skinny Jeans
Designed to provide a slim and flattering look, Skinny Jeans for both men's and women's are a great choice to add some style to just about any outfit. Slim denim pants are constructed to have a snug fit through the legs and feature a small leg opening so that the skinny fit goes all the way to the bottom of the leg, unlike other styles of jeans that have a loose or baggy fit near the feet. The slim leg opening makes skinny jeans the perfect choice to wear with shoes like boots or high tops.
Trendy and super stylish, skinny jeans for women are very flattering with a slim fit that helps elongate the body making them easy to dress up or down for any occasion. These slim pants look great with any shirt and can be worn with boots and flats for a look that will last year round. Skinny jeans are also a great choice for men's with the combination of comfort and the versatility of styling options. The durable and comfortable constructions makes skinny jeans great for skating, school, or even formal occasions.
Start shopping and choose from a variety of brands, style, colors, washes and cuts that will look great with anything you pair them with. For a smooth and versatile look, step into a pair of skinny jeans and help set off your personal style!